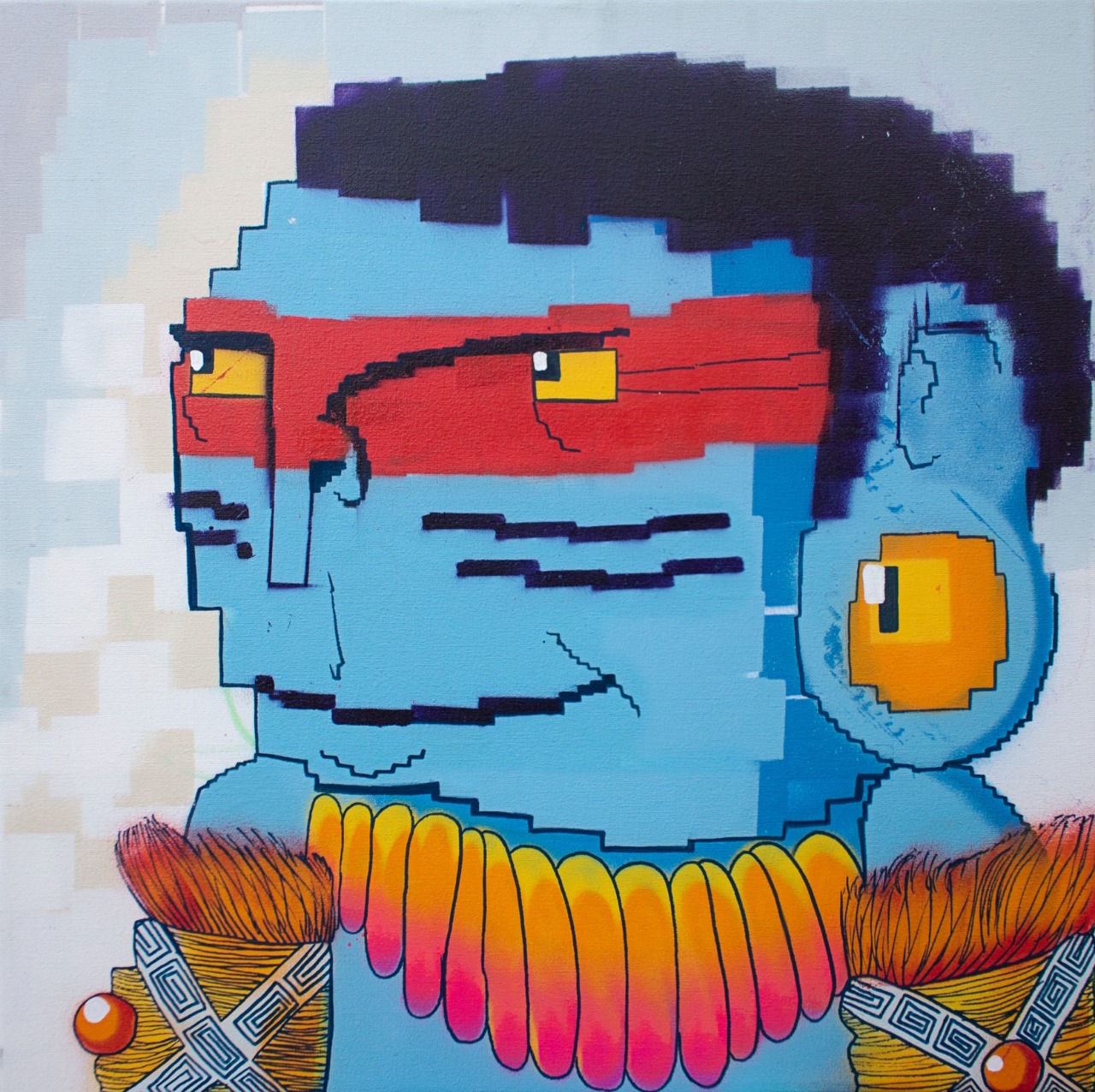 Fabio de Oliveira Parnaiba, or better known as Cranio, is a Brazilian artist who began his artistic journey in the streets of Sao Paolo. In 1998, Cranio realized that the grey walls of his city needed some sort of aid. Since then, he decided to give these walls a colorful boost, and began doing the same for other cities all over the world. Cranio's main source of inspiration comes from life itself, the streets, cartoons and the famous surrealist Salvador Dali. But surely, it is his Blue Indian characters that have become his trademark. The birth of these characters came from Cranio's desire to show the indigenous people of Brazil and the struggles they're facing in the unforgiving contemporary world. Abandoning the stereotypical image of Amazonian people, Cranio's protagonists wear Nike sneakers, have smartphones, eat fast food, and some are superheroes. The contrast between the spirituality of the Blue Indians and their new, materialistic environment allows us to reflect about ourselves and the society we live in. What makes Cranio a unique artist is this ability to make you raise questions about yourself and the life you're living, while communicating with colorful, humorous works of art, full of life and detail. As his career is in constant development, Cranio is now working on more canvas pieces for shows and tours, and is always looking for ways to push himself a step further. Using intricate techniques, he is able to manipulate spray paint like no other; creating layers and delicate lines while playing with textures, colors and contrast. Cranio takes time to think of what concept he wants to convey with his work and this attention to detail shows in everything he makes, whether it is a mural, a big canvas painting, toy sized Indians or his big sculptures.

Cranio's art started on the walls of Sao Paolo, and this choice of medium never left the artist. However, soon after many murals, live painting shows and workshops, Cranio started touring and exhibiting his work more often. By 2016 Vroom & Varossieau held Cranio's first European solo exhibition: "Amazonian Diet". Since, the artist started touching ground everywhere in the world, participating in urban art fairs in Paris, Miami, Berlin, Madrid, and at the Urban Art Biennale in Völkingen.
After visiting Tahiti for the ONO'U Festival in June, September 2018 already witnessed the artist working at the Musée d'Art Urbain et du Street Art (MAUSA) Vauban, where he just recently confirmed his residency, Switzerland, and Spain.